Nan Fung Place is happy to bring about the "Shopaholic Fever" summer fiesta again this year. Exuberant greenery interior design chills out the heat and refreshes one's inert palate with wonderful plant based food experience in the newly launched 'Kind Kitchen by Green Common'. What's more is the revitalizing taste of 'Yi Fang Taiwan Fruit Tea', plus a perfect greet with the 100% original Thai design gifts in the Pinkoi Market.
To celebrate summer, tempting discounts are offered by NFP retailers and restaurants, bookmarked as the best picked shopping hotspot for this summer, no shopaholic shall miss it out!
Shopaholic Fever.Celebrate Summer
2018.06.16 – 07.02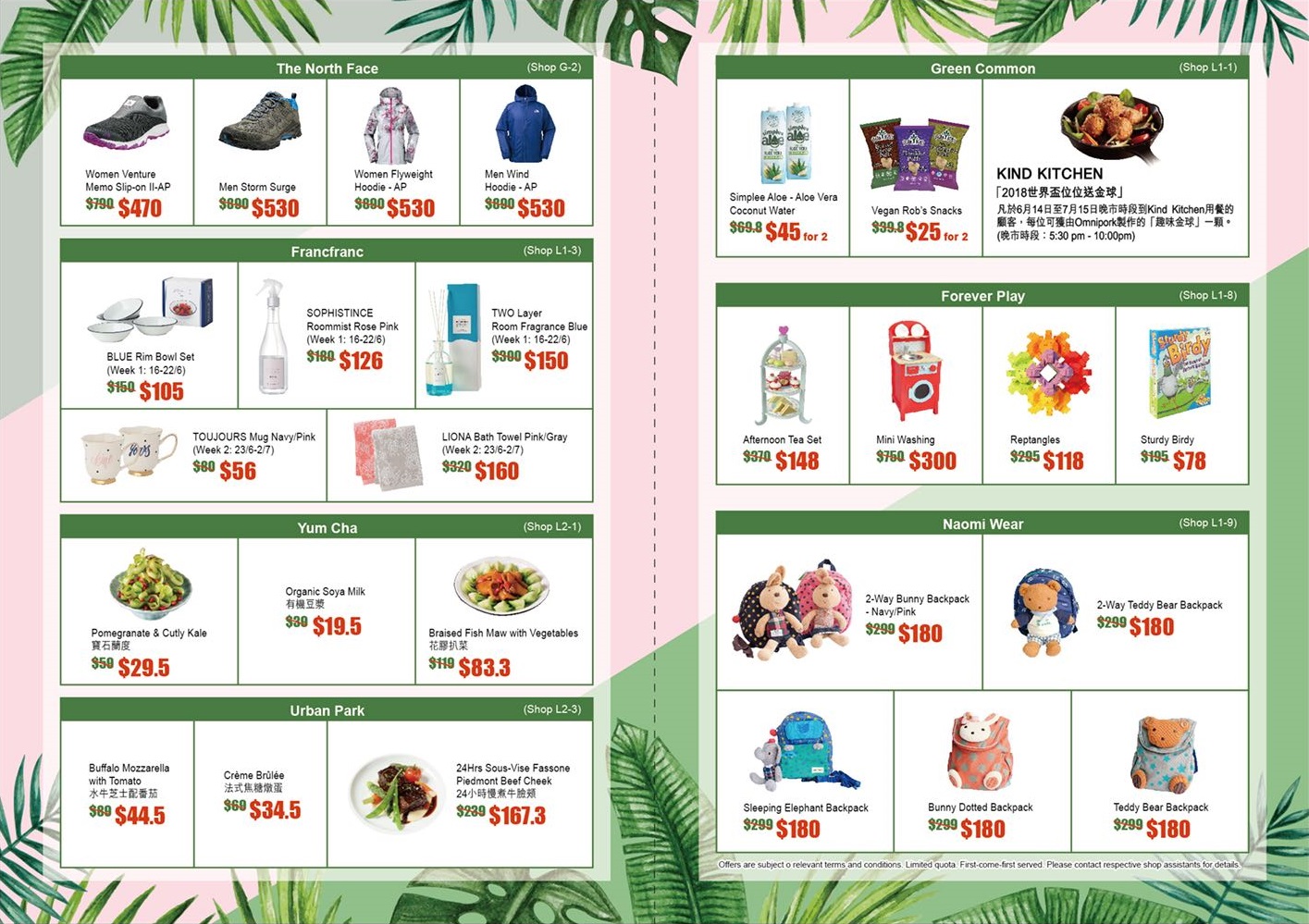 ---
Shopaholic Fever Spending Reward
2018.06.16 – 07.02 | 12:00N.N. – 8:00P.M.
Upon spending of designated amount* in electronic payment method at Nan Fung Place and LIKED Nan Fung Place Facebook page or FOLLOW Nan Fung Place Instagram account, customers can redeem exquisite rewards** worth up to HK$500!
Spending*

Rewards**

HK$500 +
HK$50
Francfranc Shopping Voucher
HK$1,000 +
HK$100
Francfranc Shopping Voucher
HK$4,500 +
 HK$500
Ecco Shopping Voucher
Each transaction can redeem a maximum of 2 pcs of Francfranc $50 shopping vouchers OR 1 pcs of Ecco $500 shopping voucher.
First-come-first-served, while stocks last. Terms & Conditions apply. For details, you may refer to on-site promotion material.
Ecco shopping vouchers are all redeemed.